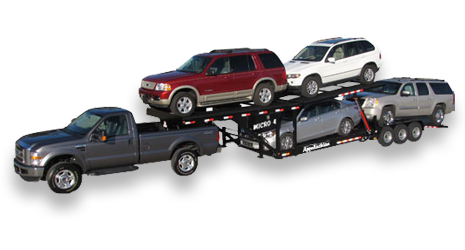 Appalachian's versatile Micro IV double deck four car trailer is the most user friendly double deck trailer on the market. This is accomplished with our trailer having two hydraulically movable decks that give a much longer and more gradual loading angle. Both vehicles can be loaded and tied down on the top deck before the deck is pushed up into the raised position. The top deck is 8′ wide, giving you room to get out of the top vehicle and walk down the deck to the ground – hence no ladder is needed. This versatile four car trailer is capable of hauling three SUV's and one full size car at one time as illustrated in the pictures. It features a fully self-contained hydraulic system with a 2-way valve so that one pump operates either deck. Stake pockets and rubrails make tying down vehicles quick and easy. Ratchets with wheel-loop straps are included. The ridged mesh runners save weight and make loading easy in inclement weather. The ridged mesh deck and high strength tubing frame make a durable yet lightweight trailer. You can order our heavy duty mesh floor option, which includes an over the tire tie down system. Empty weight is 7,860 lb. including the standard spare tire and ratchets with wheel straps. The heavy mesh option adds 400 lb. The hydraulics are self-contained in a lockable toolbox. A second toolbox is provided to carry the straps and ratchets. An all tubing main-frame, 3-7,000 lb. axles, slipper spring suspension, and premium radial tires (spare included) along with 8 ft. aluminum ramps make this cost effective trailer the most versatile four car trailer you can buy!
Contact Us Today For Double Deck Four Car Trailers
Our sales representatives can help you select the perfect trailer for your hauling needs. Our trailers are manufactured at our Northeast Ohio plant and are available for pickup at our Ohio or Pennsylvania locations for the same price! Call 330-277-4141 today!