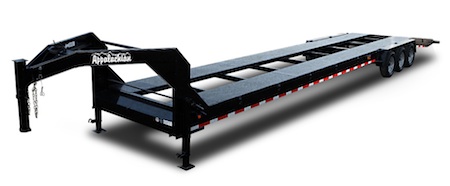 Our open center gooseneck two truck hauler trailer is built to last with a sturdy 12″ I-beam main frame at 19 lb. per foot. This trailer also incorporates four torque tubes into the frame, under the floor, for added rigidity. Heavy ridged mesh option with over the tire tie down system is available as a special order. The bed length is 43′ and will accommodate three small cars or two four door dually trucks. With an 8′ dovetail and 7′ slide-in loading ramps, loading this gooseneck trailer is simple!
Contact Us Today For Two Truck Gooseneck Hauler Trailers
Our sales representatives can help you select the perfect trailer for your hauling needs. Our trailers are manufactured at our Northeast Ohio plant and are available for pickup at our Ohio or Pennsylvania locations for the same price! Call 330-277-4141 today!