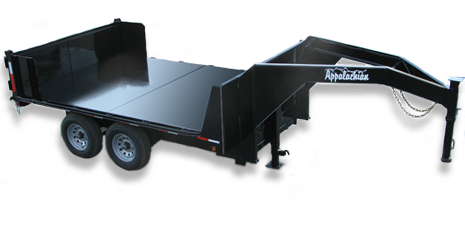 The contractor grade APPALACHIAN SPECIAL flatbed open sides gooseneck dump trailers are a very versatile for farm or construction use. They are built with our best features which include premium radial tires, a heavy duty drop-foot jack, heavy duty slipper spring suspension, an adjustable 2 5/16″ gooseneck coupler, and a durable channel main frame. This model is constructed to accept slide-in sideboards. This versatile feature allows easy side loading of pallatized construction or landscaping materials. The fully self-contained hydraulic system features a powerful Champion Brand scissor lift. Appalachian's hydraulic gooseneck dump trailer is versatile, unique, and a great investment for construction, farm, and landscaping use.
Contact Us Today For Dump Trailer with Open Sides
Our sales representatives can help you select the perfect trailer for your hauling needs. Our trailers are manufactured at our Northeast Ohio plant and are available for pickup at our Ohio or Pennsylvania locations for the same price! Call 330-277-4141 today!