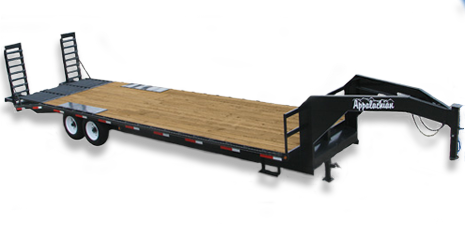 Appalachian Trailers premium Contractor Grade Flatbed Gooseneck Trailers feature a low loaded deck height of 32″ or 33″ depending on model. This allows for easier loading and safe hauling of your equipment. The 15,000 GVWR model has an 8″ Channel main frame. The 17,000 GVWR and up models have I-beam frames. 16″ crossmember spacing and heavy outer rails on all models make a long lasting investment. The 20,000 GVWR model has 8,000 lb. axles with 12 1/4″x3 3/8″ heavy duty brakes and 215/17.5 16 ply rating premium radial tires. This heavy duty running gear package has great stopping power and makes these contractor grade flatbed gooseneck trailers stand out from the competition.
Contact Us Today For Flatbed Gooseneck Trailers
Our sales representatives can help you select the perfect flatbed gooseneck trailer for your hauling needs. Our trailers are manufactured at our Northeast Ohio plant and are available for pickup at our Ohio or Pennsylvania locations for the same price! Call 330-277-4141 today!